About Riverside Lodge
We, Gildas, Joanne and our children, own and operate Riverside Lodge, located on the Valley River/Lake Dauphin.
Our location and hunting opportunity for all species of Waterfowl both from boats and in fields for Geese and Ducks are outstanding. Our bear hunting area is massive and encompasses 4 large GHAs of the best Bear Hunting habitat in Manitoba Canada! Our Deer hunting area grows many large bucks. Best thing about it all...it gets better every day, and every day we get better at it.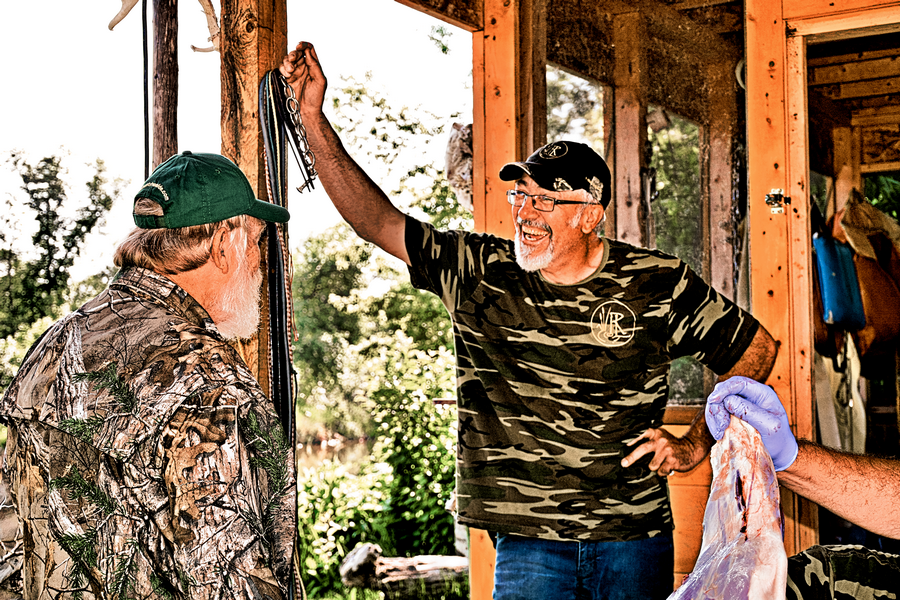 Why hunt with Riverside Lodge?
"Nobody does it like we do!" This is true, after being in the business all these years and never worrying ourselves about what other operations are doing, we have realized that we have built one heck of a great business! When comparing what we have to offer there really isn't any other place that provides all that we do. So many great services coupled with world-class accommodations, meals, people, and productive hunting areas allow us to stand out from any hunting trip you might take elsewhere. And nobody else does it like we do-meaning we put our best forward every day in all that we do. Providing great service never ends which is why we spend extra time and effort hiring only the best staff that fit in with what we are providing. This is a conducive business practice that allows us to give each guest the very best experience. Rest assured we rarely will say "Good enough". We get better every day and that includes everyone and everything.
Our many years of success are attributed to consistently high-performance hunting results, plentiful game, beautiful scenery, excellent meals, and of course, our warm and friendly hospitality – all this coupled with our clean and comfortable accommodations. No short-cuts here, just smiling hard-working people enjoying their job, rain or shine.
"Experts in Safety and Equipment – Our knowledgeable guides enhance your valuable time at Riverside Lodge" With years of expertise in safety and equipment, our hunting guides get your hunting party to the right area, with a consistently high success year after year. Our top-notch guiding services coupled with strict safety policies and the right equipment may cause you a little higher ticket price initially but quickly pay off huge dividends in your overall experience and the memories that we help you create. You're in good hands at Riverside! In fact, many seek the exact exclusivity that we offer, and many times the only people that you'll see are those that you shared breakfast with in the morning! It's that sweet!
"It's about the entire experience– Maximizing your hunting trip!" Riverside is one of the few places that can boast about wonderful hunting trips for such an amazing array of species! Our local ecosystem in Manitoba is a unique world-class playground of extraordinarily great hunting for the migration of 14+ species of ducks, Canada geese, Snow geese, Upland birds, Monster Black Bear, and amazing Manitoba Whitetail Deer.
Honesty and integrity are the foundation we build upon. Old school honor and respect are what we print our bills on. We have had this all put to the test over the years and are proud to say each time we "Made it right". We are not, nor will ever be "One of those places" that take your money or waste your time
"Riverside Lodge Manitoba, one of the best Hunting Outfitters"
Riverside History
Here is an old promo video from 2008 filmed and produced by Randy Ryals from Alabama, showcasing our Northern Duck Bay location, where Riverside Lodge began in 1961, 55 years ago.
Now booking for the upcoming hunting seasons: Contact us!
Gildas & Joanne Paradis & Family
Riverside Lodge, Manitoba Canada

"Quite possibly the best hunt you will ever have"
News & Events
06/29/23
Lily graduated last Saturday from high school. We are so proud of her accomplishments and know she is going to add great things to the world as grows.
05/21/23
Avoid Toronto airport if you are flying to Canada! Especially avoid Air Canada.
They are not hunter freindly.
02/05/23
Trouble finding a vehicle rental to get to your outfitter?
01/04/23
Look at this bruin, 610lbs!