Manitoba Waterfowl Hunting Outfitters
Riverside Lodge is now booking waterfowl hunts for the 2022-2023 Manitoba waterfowl hunting season.
Manitoba Waterfowl Hunting Mecca
This was built here more than 60 years ago, for good reason! You have to hunt where the birds want to be, that is here!
Riverside Lodge and area is well known for the tremendous Waterfowl migrations which historically take place each fall on our major flyway for at least 15 species of ducks and geese. It is a natural flyway for the migration from the north because the big lakes are a magnet to birds on their way south. Divers like Canvasbacks and Redheads will hold up on Lake Dauphin often waiting until the bitter end when ice forces them to move out. Puddle Ducks and geese make the lake home also waiting for snow to fly out sometime in November. These birds are very comfortable here with the lakes for refuge and area grain crops for feed. No other place provides the hunting opportunities found here. As you can see in the video our location is perfect for offering spectacular water-based and field-based hunting. The best duck hunting on the lake is right off our property and the best goose hunting in the parkland surrounds us. Once here you will be anxious to get out and hunt all the birds that teased you on the way in.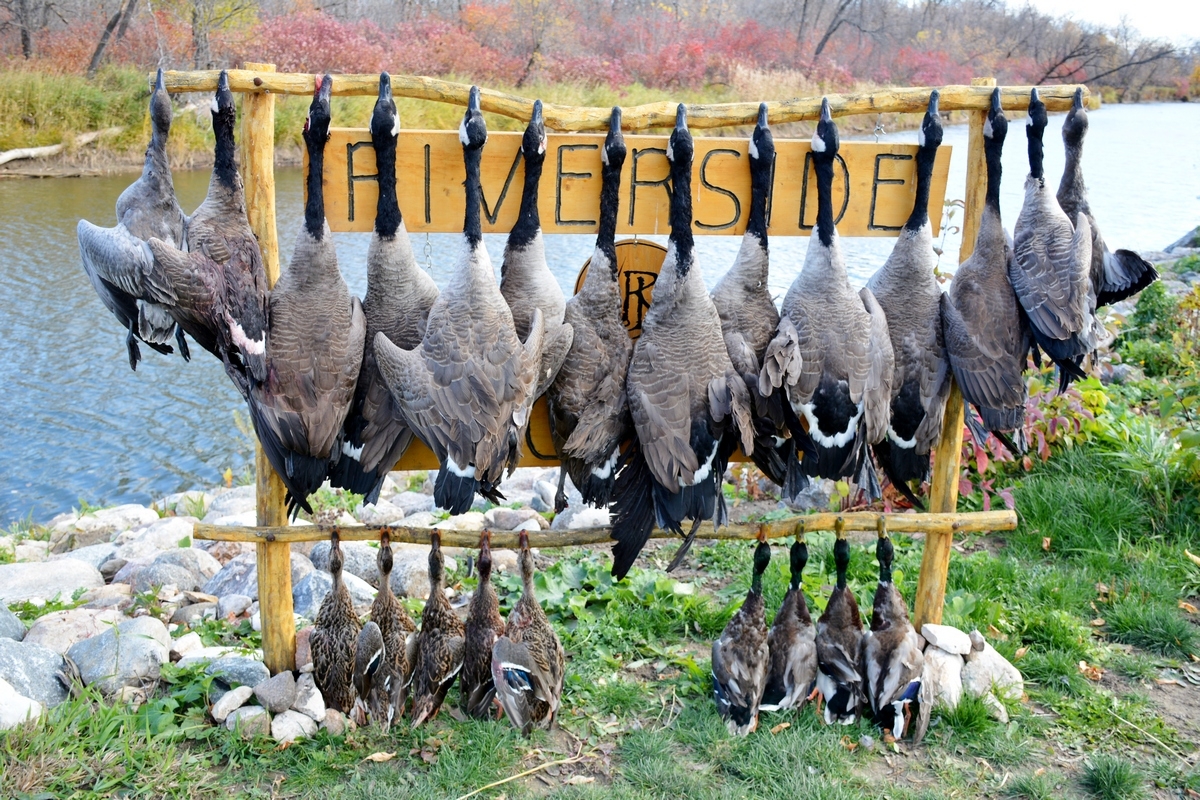 Field Goose & Puddle Duck Hunts
We deliver exceptional field hunts for geese and ducks. I personally know many of the farmers in the Parkland area and getting permission on the barley, corn and wheat fields is rarely a problem. We have consistent success on our field shoots due to proper scouting and landowner relationships. We hunt from layout blinds and/or vertical blinds over a great assortment of full-body, shells, silo and sock decoys if the conditions dictate it. We run different rigs pulling trailers loaded with gear and equipment to deliver a great field hunt. Most often we can drive right out in the field but other times we bring our ATVs and trailers to get the gear and hunters on and off the fields. We typically target Canada geese but often get a chance at decoying flocks of Snows during a hunt. On the right field, we will target snows and put out a large spread. The goose hunting is every bit as good as the duck hunting often having mallards & pintails hitting the spread before the geese. A bit of calling and a wave of a flag may be all that is needed. And we have some generous limits, see below.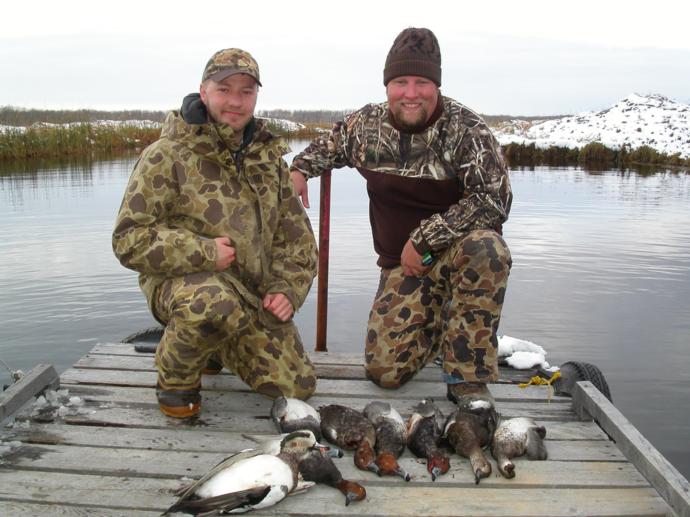 Duck Hunting
We have the equipment and knowledge to Safely hunt the water for ducks. We hunt divers and puddle ducks in the same day, as you can see in our photos pages, bagging 10 species in a morning is very common. We hunt the lake shores and surrounding potholes and marshes.
The hunting is very much like it was many years ago, not much has changed, only the hunters and equipment. We are all professionally trained and licensed Manitoba hunting guides. Mother nature will always keep it interesting making every hunt a new experience. We adhere to all game laws and provide ethical fair chase hunts.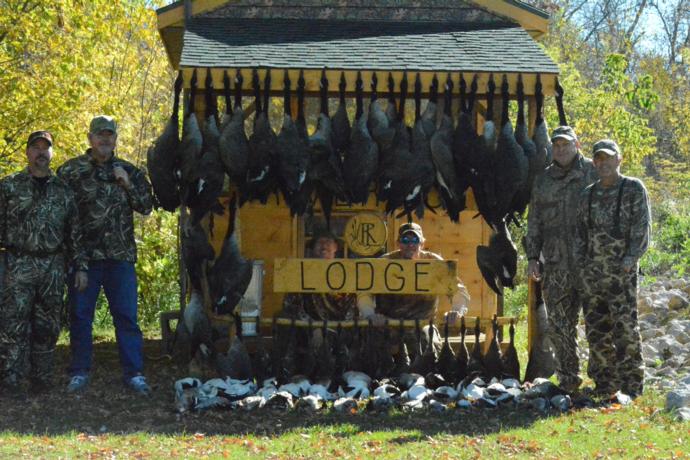 Waterfowl Species
Mallards
Pintails
Redheads
Canvasbacks
Ring Neck
Greater and Lesser Scaup
Widgeon
Blue & Green Wing Teal
Bufflehead
Goldeneye
Wood Duck
Shoveler
Canada Goose
Snow Goose
And more!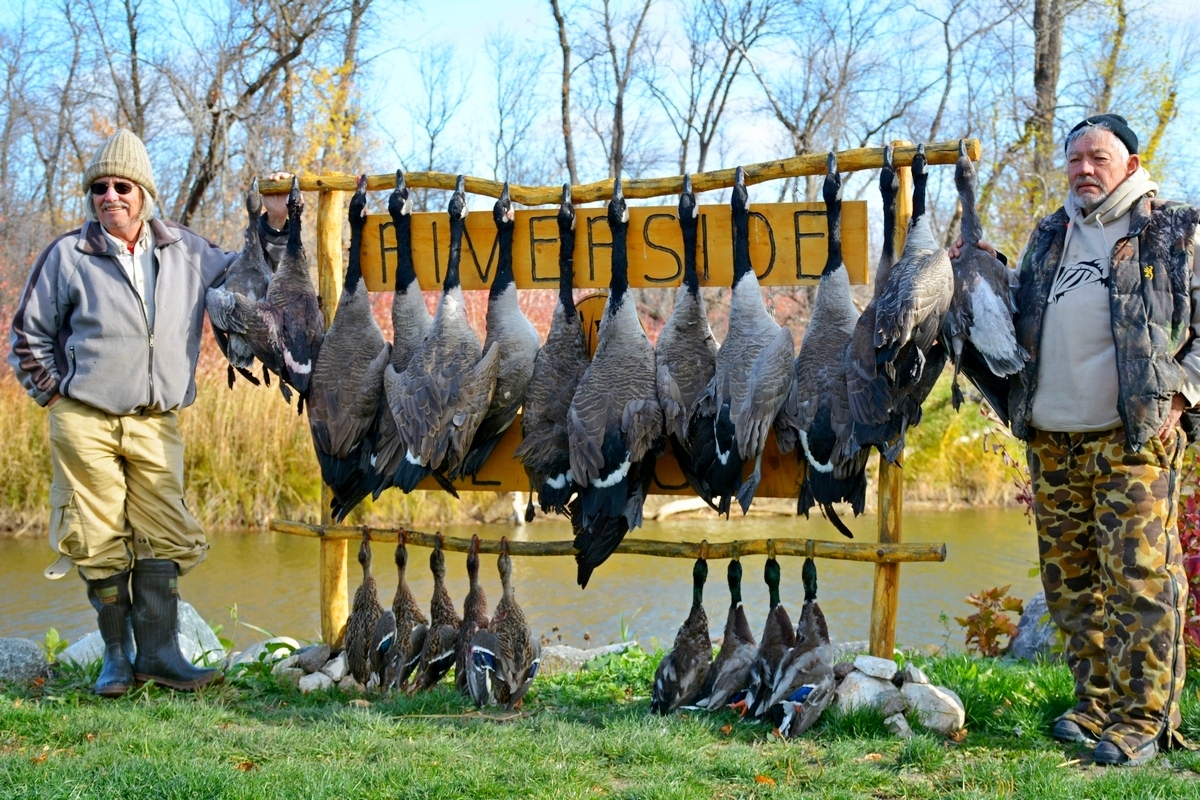 That middle honker has Christmas Goose written all over it!!
Waterfowl Hunting
06/29/23
Lily graduated last Saturday from high school. We are so proud of her accomplishments and know she is going to add great things to the world as grows.
02/05/23
Trouble finding a vehicle rental to get to your outfitter?
11/07/22
It's only been winter for a day and we're already tired of it!
07/05/19
Great day to bbq, bear and goose sausage!