Manitoba Black Bear Hunting
Bear Hunting- "It is unexplainably exciting, instantly causing adrenaline rush induced mind and body chaos!"
Gildas Paradis
We have grown our bear business again!
Each year we are improving and increasing the quality of what we offer. We are proud to announce that we have expanded our Bear hunting allocation and available tags. We purchased 2 more excellent bear hunting areas exclusively for Riverside Lodge guests. Combined our 4 huge areas have over 50 active baits to hunt plus we add more baits every year!
Did you miss out on booking a trip with us?
We were sold out but we now have:
-more available hunts for 2020/21
-more excellent baits!
-more areas, all connected together forming one huge area of over 3 million acres!
More for us means more for you!
Riverside Lodge is now booking bear hunts for the 2020-21 Manitoba bear hunting season.
Attention bear hunters!! Our area of Manitoba is going through a very high population of bears to the point where livestock, honey and grain producers are calling on the government to do something about it. Big game damage claims are doubling each year with a payout from the province to producers of over $4 million 2017 alone!! This is a great opportunity for us hunters and believe me we are at the front line forming great relationships with industry affected by this "problem". With our help the bears can be managed and damage claims can be reduced. Stay tuned for more info on this matter but in the meantime, get up here and hunt the best bear habitat ion the world!!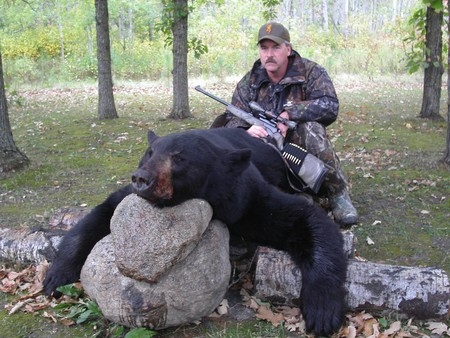 Fall & Spring Baited Bear Hunts
It is a well know fact that Manitoba Canada has the best Black Bear hunting in North America. That is for good reason as we have some big bear here and lots of them. Now if you look into Manitoba bear hunting hot spots. You will find we are located in the area with the best variety and consistent natural food sources. Add water and abundant shelter,you found the makings of World Class Black Bear Hunting! To top it all off, throughout our massive bear hunting areas, there is some major grain land where bears will be drawn to oats, corn, barely and more irresistible grains. It's no wonder they grow very big and raise a lot more young.By my rough calculations our area is over 3000 sq. miles of some of the best black bear hunting in Manitoba Canada. We are proud to be a Manitoba bear outfitter and work very hard to ensure our bear hunting trips are a fun adventure.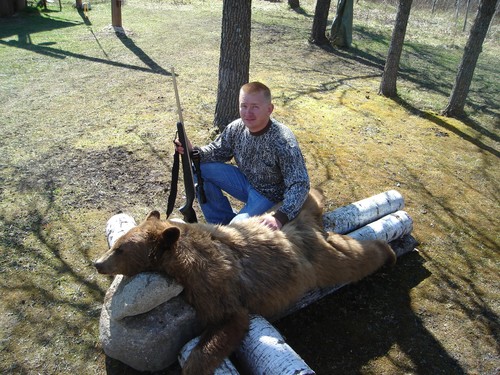 The Bears in Manitoba
We average 300 lb bears consistently, with bruins well over 500 and 600 lbs each year. Very Big Black bears with a consistent 40-65% opportunity on color phase also. We see all the color phase bears, such as blonde, cinnamon and chocolate as well as different shades of black, and the new quest is multi-colored bears! Our bears get the chance to grow big with plentiful food and cover and huge wilderness areas to roam. Some will die of old age as proven with our Annual Biological Sampling studies that gather information of the age of bears killed. We have age reports showing many in the teens and even up to 24 years old, so our population is doing fine. Not sure if you would like to try our spring black bear hunts or fall bear hunt? Contact me and I can explain all the differences.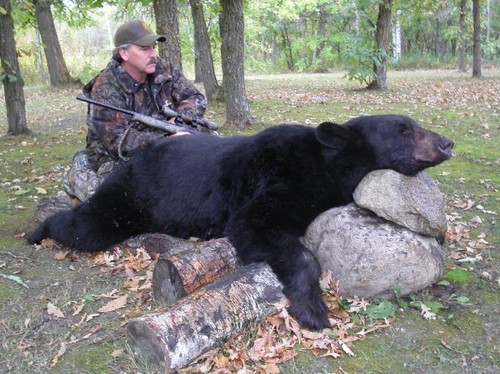 The Bear Hunts
Our bear hunts take place over baits, many of which are established for 20 years or more!The bears habitually take advantage of the fresh feed every spring and fall. We diligently keep the baits full of high quality feed, not just candy and garbage, however we do give them some sweet stuff to keep them happy. We spend the time to ensure our baits are active, with attention given to location, quality of bait, wind direction and concealment. We use only the best bait and lots of it, barrels full not pails, (We generally put out 80,000 lbs of bear bait per year!!) And we also use alot of what is the absolute best bear bait on the planet, i keep freezers full of it. can you guess what it is?
We hunt from 10 ft high tree stands with shooting lanes cut to the baits with typical distance of 40-60 yards to bait for rifle hunting. We use natural vegetation to build our stand blinds and our tree stands are large custom built for ample room and Safety. Bow hunting stands are typically 15 yds on avg however we do set up closer for the few Traditional bow hunters we host. We can also put you in a ground blind if you prefer. Bottom line, we take our job seriously and do it very well. The bears are very plentiful and our bear hunting area is one of the best in the province. We hunt spring and fall every year.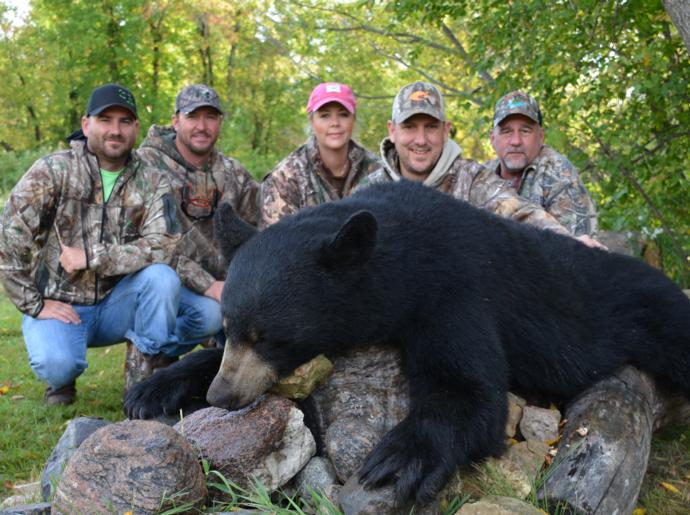 What makes Riverside Lodge different?
We work hard, all year, and never quit improving in all areas of our operation.
Staff are some of the best people you will ever meet. Professionals who truly care about your experience and will give you no excuses.
We are in Manitoba which is absolutely one of the very best bear hunting locations in North America.
Honesty, is our foundation, and we have a proven track record with all of our past guests.
The bears, big ones, colored ones and plenty of them!
Our particular hunting area, is very diverse. In the middle there are thousands of acres of different crop land, while on the south is Ridng Mountain Federal Park (hunting has never been allowed in there, grows big bears). On the west is Duck Mountain Provincial Park, which is the highest peak in Manitoba, grows a lot of big bears.
We do this full time, not on the side, it's our livelihood and we do it right. We employ a great staff that along with us really enjoy the job. We all plan to be here for many years as we are granted and we want to be outfitting hunters in this pristine piece of Canada the whole time. We want all of our guests to want to come back.
There is much more I should list here. We can send the info and details if you would choose to contact us for more info.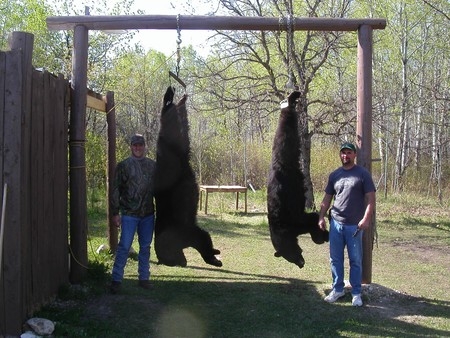 Hunting Pressure at Riverside Lodge
Riverside Lodge guests are the only Bear hunters you will see. We have hunting rights to thousands of square miles of wilderness, swamps, river bottoms and grain fields. It is not an easy task preparing/maintaining our bait sites and stands, but we put in a lot of effort to give each guest a hunt of a lifetime.
Our equipment is also in very good condition and diligently maintained to ensure a Safe experience. With a fleet of 12 boats of all sizes and many types of off road vehicles, we always have a way to hunt.
We are all experienced professional guides who are very proud of our work. We know the area and the bears.
We accommodate rifle, shotgun, muzzle loader and archery hunters.
Bow hunters : We ask that archery hunters take their time and place the arrow true of course, but also we advise to carry a rifle for protection. We have had close calls with angry bears which required a quick response from a loaded firearm.
What we don't have- black flies, nor no-seeums. Just mosquitoes.....but lots of them. (Thermacell works great!)
Visit our page about what to expect on your Manitoba bear hunt. Everything from what to bring on your hunt, to details on the hunt itself.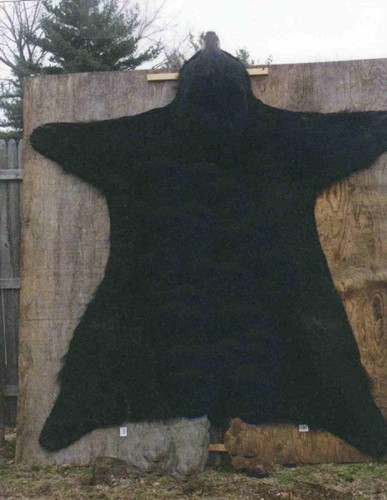 Manitoba Black Bear Facts
Our Snake Lake Camp boasts the 8th biggest Black Bear in the World, year 2000!! Over 8 foot square, 22 1/16 skull.
Did you know? -The biggest black bear in the world was killed only a few miles south of our Lodge in Riding Mountain National Park, but it was poached! It weighed over 1000 lbs but his cousin which wasn`t killed weighed over 1150 Lbs!!! Yes we have some great bears here.
- Manitoba is one of the first and few places in North America that has kept records of collected samples from killed bears such as tooth and reproductive tracts for study. These are used for research to determine ages, sex, health and many more aspects of the bears. Useful information is gathered from such studies but what it has proven is that by baiting bears we can maintain a very healthy population by selective harvesting. With the use of bait we are able to harvest certain bears with quick clean kills. It is also a very useful strategy to eliminate the accidental killing of a Sow with cubs. The hunter has plenty of time to observe the bear to determine if she has cubs around. Also by allowing such select harvest, most hunters take the time to kill big boars, which inevitably will kill cubs.
Contact Gildas at Riverside Lodge and request more information on our Manitoba Canada bear hunts.
Bear Hunting
10/03/19
will be hunting some October bears next week! And it looks like great weather in store too!
09/18/19
Weighing 522 lbs squared 7.5 ft it's a Manitoba monster bear!
2 tags for fall bear hunt 2019
08/13/19
As we continue to expand more hunts become available. Right now we have 2 more bear tags/hunts available for this fall!
Weeks available are Sept 15th or Oct 6th your choice. Take both tags for a discounted price.
Come and get a pair like these! 21+ Alltime B&C and a highly sought after blonde! Happens all the time here.
07/05/19
Great day to bbq, bear and goose sausage!