Testimonials
Here's what a few of our customers have had to say about us.
Have a testimonial of your own to share?
Send a Testimonial
scott micheletti
Fall 2021 - Cypress, Texas
What a great place to stay, eat and hunt BLACK BEARS. Covid pushed my trip to the fall and now I am booked for a return spring hunt- can't wait. Food is awesome and accommodations comfortable. Guides are very accommodating. Make sure you bring a good seat cushion for your tree stand sit. Gildas and team make sure you see a lot of bears! I highly recommend Riverside.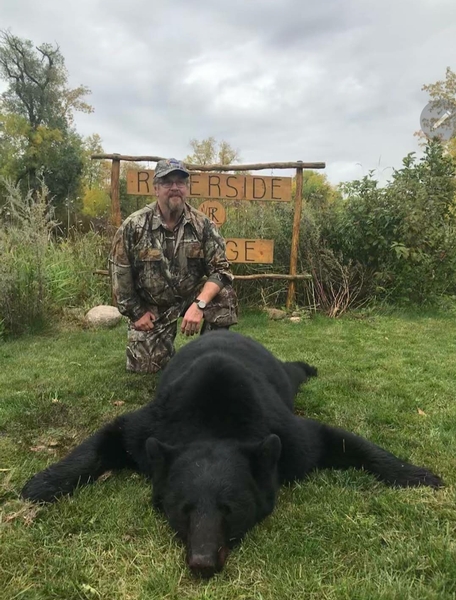 Tim McCammon
Fall 2019 - St Louis, Missouri
What a trip. Our group consisted of 6 first time bear hunters. On arrival we were immediately made to feel at home. Great facilities, great people and lots of bears. Our group all harvested bears on the first evening. Guides worked hard to get the job done. 100% success on day one. Don't plan on losing weight while you are there. A special thanks to Joanne! She put some great food on the table desserts were amazing.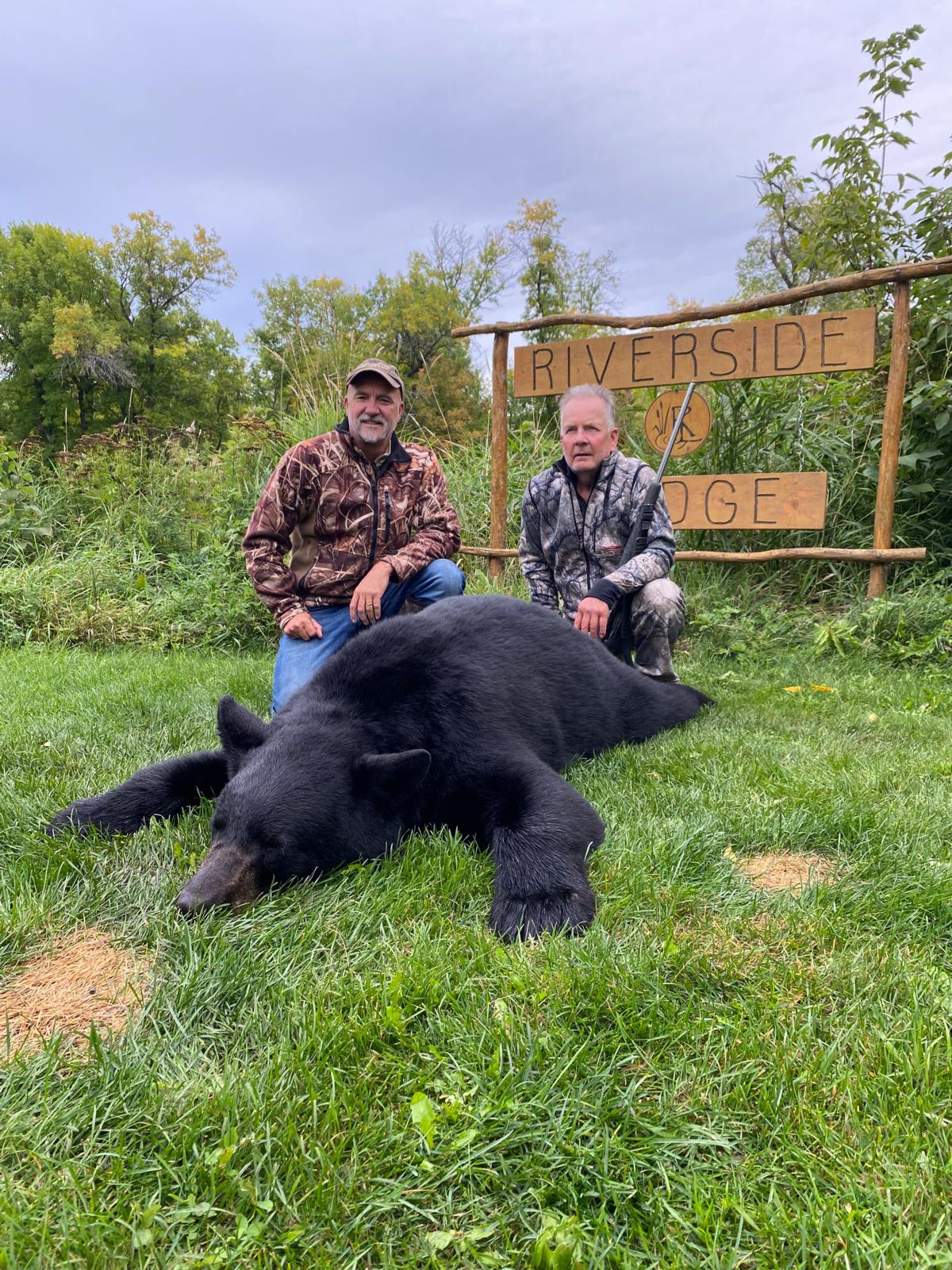 Harold Stegman
Fall 2022 - Shepherd, MI
Amazing hospitality, fabulous accommodations and yes, bears, bears and more bears. Gildas, Joanne and our guide Dave are second to none. Signed up for a return trip for Fall 2023 bringing my son and some good friends. We can't wait.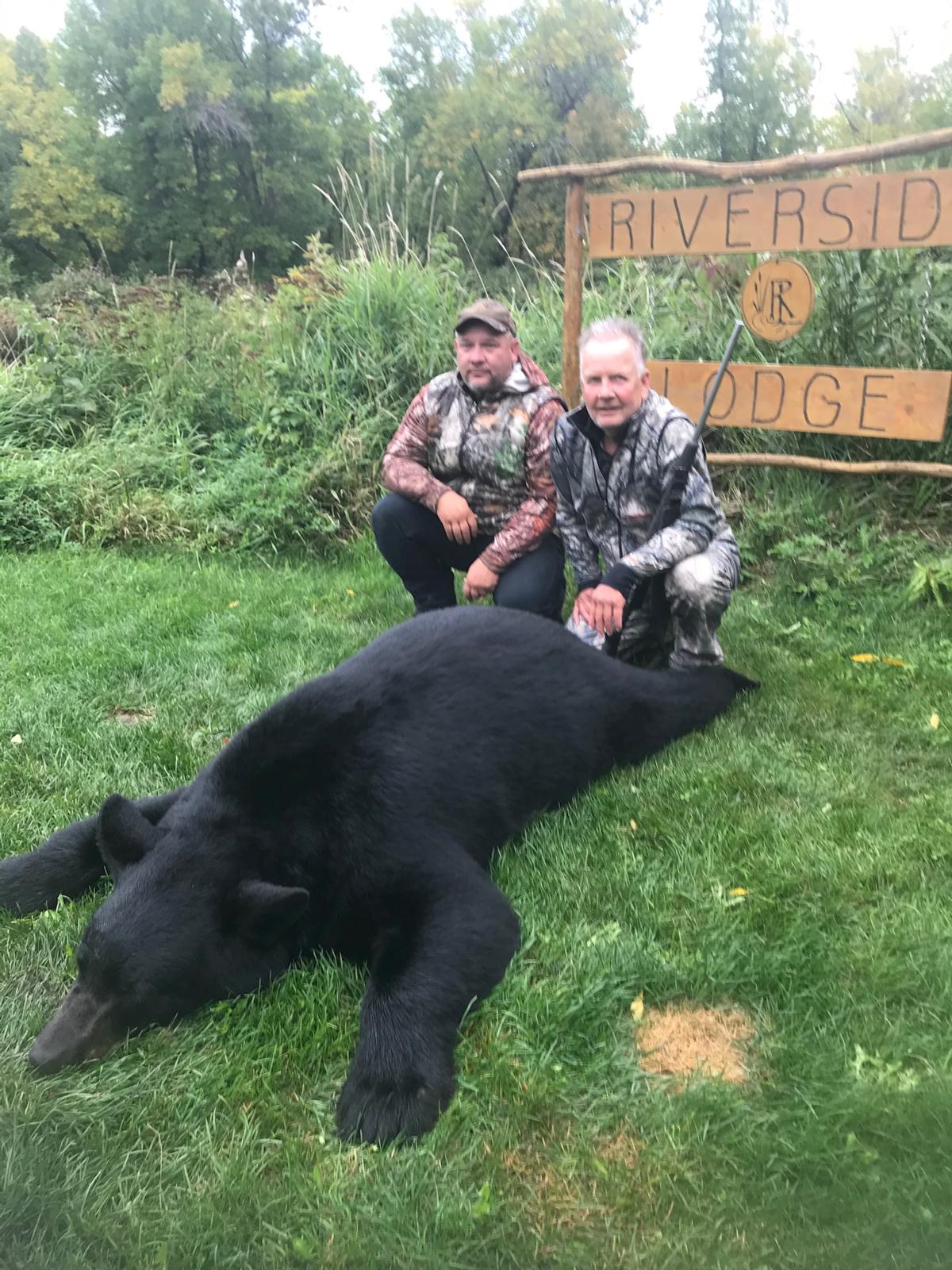 John Stegman
Fall 2022 - Gaylord, MI
Riverside Lodge.......Quality outfitter located in Quality bear habitat. Thank you Gildas,Joanne and Dave for a great Manitoba hunting experience!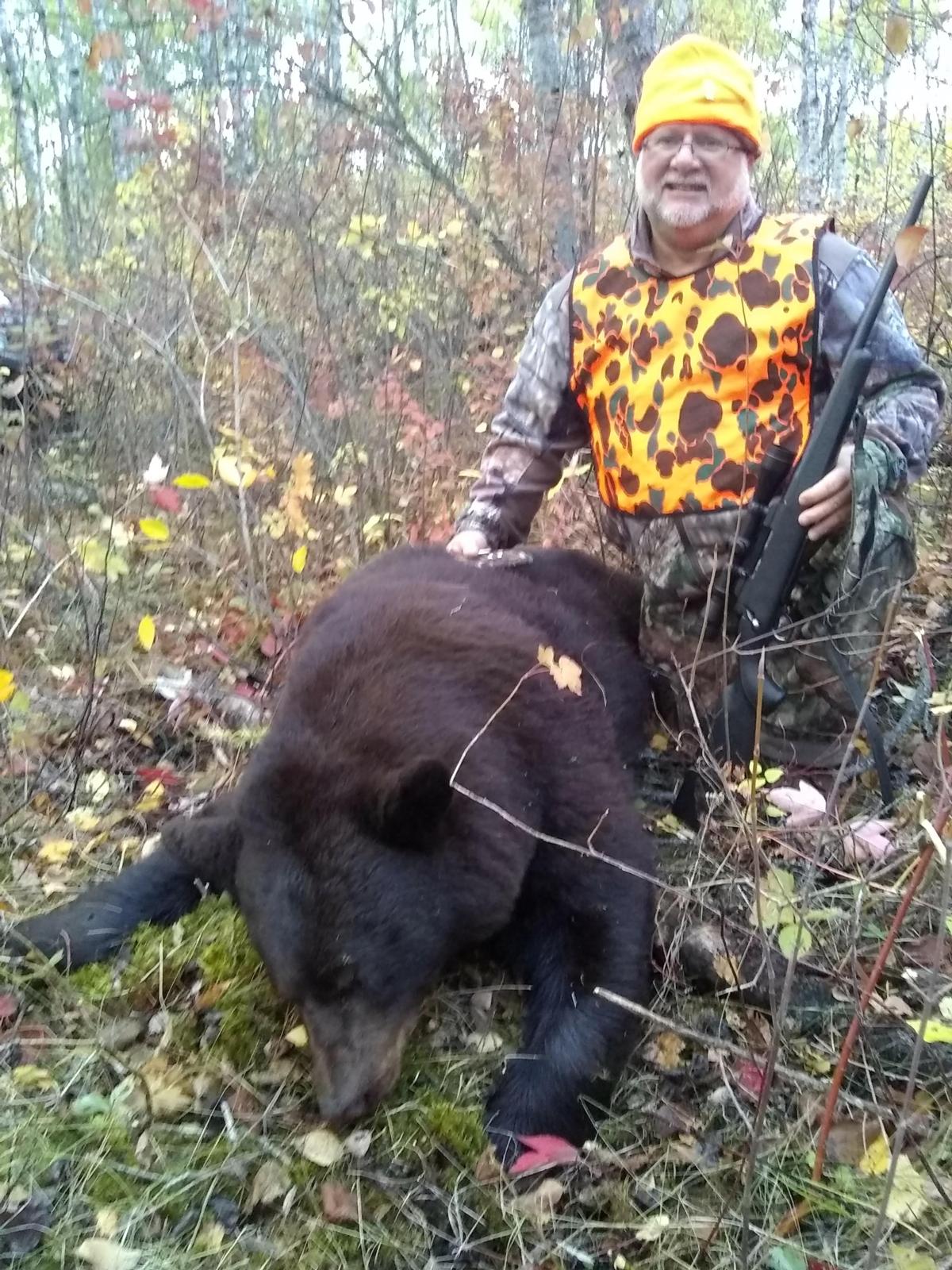 Jack Lawson
Fall 2019 - Slippery Rock,Pennsylvania
Lots and lots of bear!! Great outfitter and guides. Nice lodge and great food. Shot this 420# bear first evening. Everyone in camp either filled tag except one hunter wounded one that couldn't be recovered.
Dr. James D'Angelo
fall 2022 - kansas city mo
I've hunted big game over many parts of North America for moose, elk, sheep etc. this was one of the finest experiences I have ever had. Quality hunting, quality people. I got a beautiful trophy bear and I'll be back again. Exceptional outfitter, they will meet all of your expectations!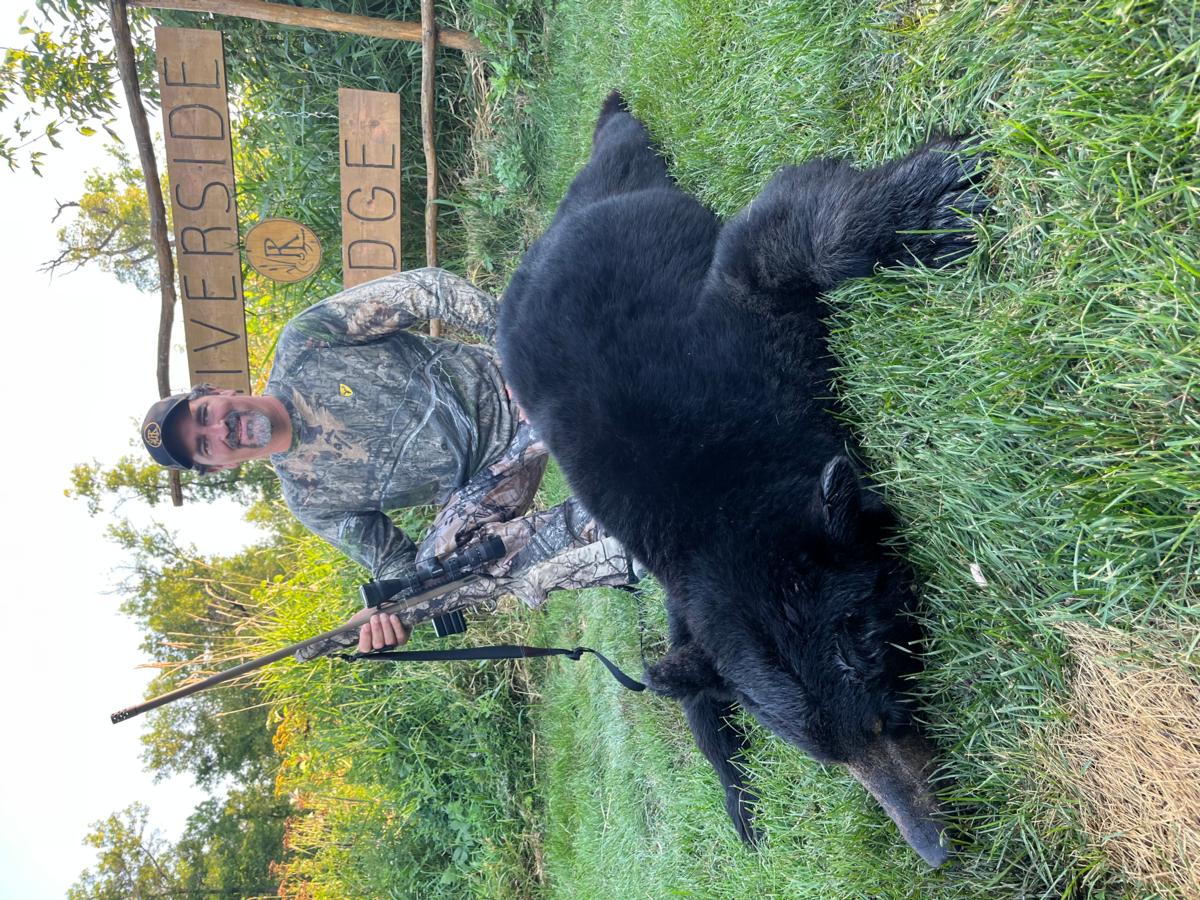 Shawn Van Ryswyk
Fall 2022 - New Sharon, IA
What a great trip we had! Gildas and Joanne are the best of hosts. They are very commending, facilities are very nice and clean. Joanne is an excellent cook, you won't go hungry. Dave guided me and you can tell he's passionate about his job. I'd recommend this trip to anyone.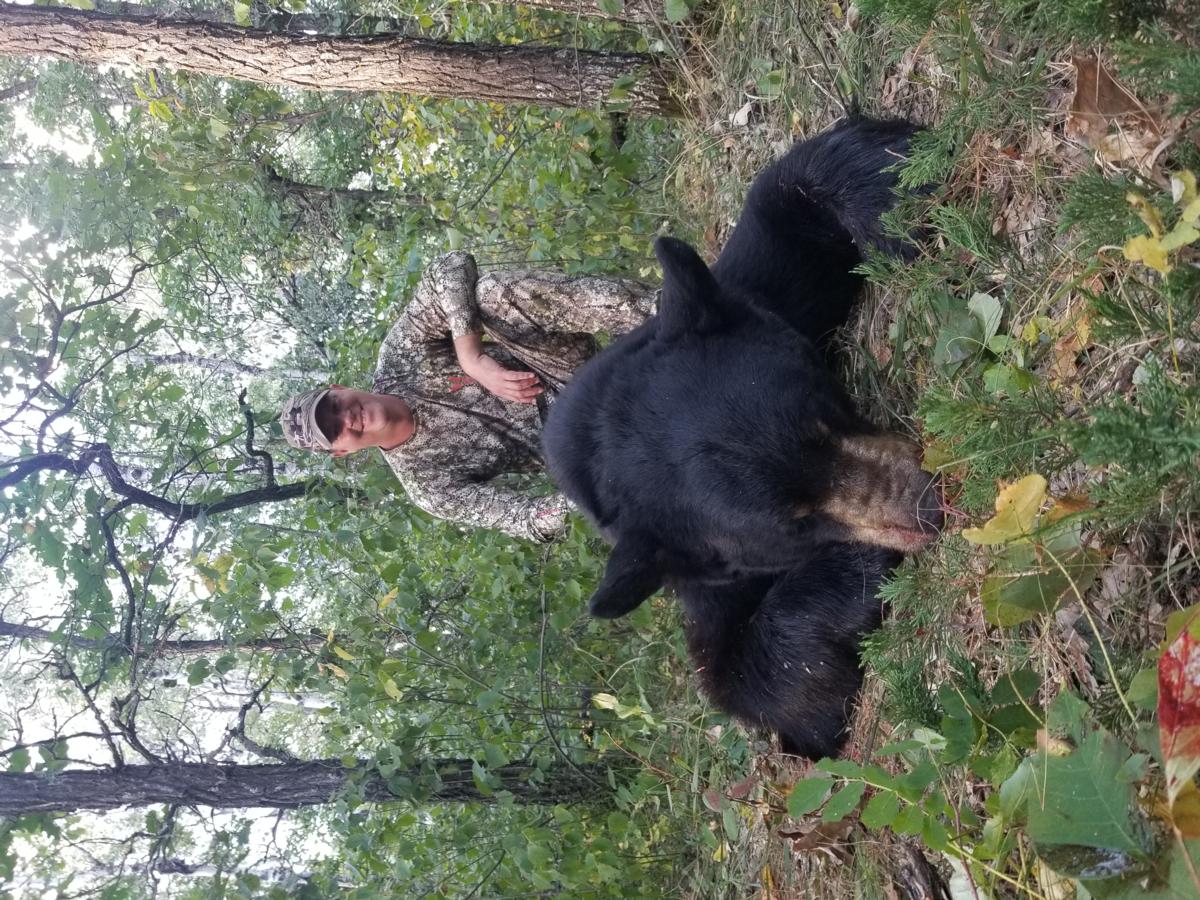 Tracy Vander Wiel
Fall 2022 - New sharon, ia
My 3rd trip to riverside lodge and no disappointment. Shot a bear each trip. Gildas and Joanne run a great operation. Guide Dave did an awesome job making sure I was successful!
Seth Curry
Spring 2022 - Grove City, Ohio
I spent a lot of time between researching and reading reviews and even talking to a lot of other outfitters. and from the first few times I talked to Gill and Joanne I could tell Riverside lodge was where I wanted to go. And being the person putting together a trip for a group of hunters I wanted to make sure I picked the best place. I can definitely say I made the right choice. Even though I was able to talk to them on the phone you still have never meet and from the moment we stepped out of the truck they made us feel like part of the family. They offer great Lodging, Amazing Food and the hunting was great even with poor weather. Gill, Laurie and Dave put in a lot of hard work all week fighting the high water and winds. And with all 8 guys having an opportunity and 7 filling there tags says a lot about them. I just want to say thank you for a amazing week and I'm already excited for next year. If anyone is thinking about booking a hunt with Riverside Lodge I strongly suggest giving them a call you wont regret it. Thanks
Rick Whitaker
Fall 2021 - Pella, Iowa
What an awesome hunt! This was my second hunt with Gildas,now planning my 3rd.I saw up to 10 bears in one night,with constant movement in & out around my stand. Unbelievable meals and hospitality! Thank you Gildas, Joanne & my awesome guide Dave!
Jack Lawson
Fall 2018 - Daulphin MB
Great hunts!!! Lots of bear!! Great accomodations, awesome cook!!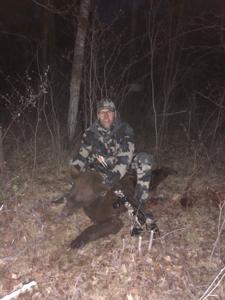 Rob Johnson
Spring Bear 2019 - Bismarck, ND
Can't say enough about our awesome experience with Riverside Lodge on our spring bear hunt. Gildas, Joanne and their daughters were excellent hosts. The bear hunting was great as my son, son in-law and myself all were successful. The sleeping quarters, the lodge and location were top notch. They are committed to making your stay comfortable, enjoyable and successful. The guides were also awesome and prioritize the hunters in camp. You will not leave hungry and the meals are excellent so leave your diet at home. Very satisfied with all aspects of this experience and will be returning. Rob Johnson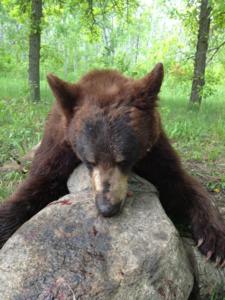 Richard Clapp
Spring, 2013 - Julian, NC
Best of the Best. If you have not hunted here with Gildas at Riverside then you haven't experienced what real quality bear hunting is. The guides and the time put into getting you on the animals goes beyond the call, and the area is top notch God's country for producing BIG and varied colored bears. I look forward to going back.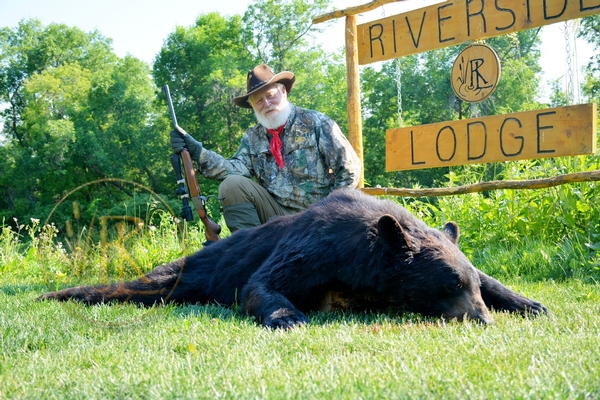 Larry Weishuhn
Bear hunting
"Family owned and operated Riverside Lodge, with just one visit, has become one of my favorite destinations in the entire world. Soon as I arrived I felt as if I were home! Great facilities, fabulous food, caring guides and staff, not to even mention the great animals which roam Riverside Lodge's hunting lands. I cannot wait to return!"
Larry Weishuhn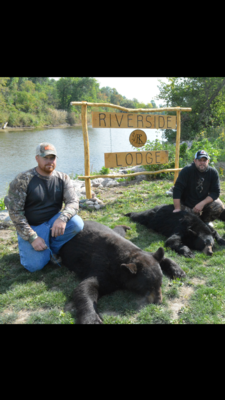 Jason Finley
Fall 2017 - Dauphin Manitoba
After 5 trips to Ontario, we decided to try something new! After a lot of searching and some research, I contacted Gildas at Riverside lodge. We were nervous, as this was our first trip to Manitoba and we knew nothing about the area or the outfitters. After speaking with Gildas on the phone, I realized he knew what he was talking about and he was great to talk to, it was like talking to an old friend. As we drove up to Manitoba, we became reluctant. All we saw was fields as far as the eye could see. We thought we had been tricked, surely there are no bears roaming around in canola fields! We arrived at the lodge and were greeted immediately by Joanne and she made us feel like we were welcome and that they were excited to see us. We got settled in and did a little fishing. Soon Gildas arrived, again we felt welcomed. Still a bit nervous, I asked, "So where are all the bears?" Gildas smiled and said, just wait, You will see plenty of bears! That evening we had a very nice meal and we all sat and talked like old hunting buddies from back home. The next morning we had a group meeting to discuss the hunting area, safety, shot placement, etc... It was a very good discussion whether you have shot 100 bears or zero. Gildas explains everything you need to know. After the meeting, we went to the range and checked our firearms. A couple guns had been jarred and were off a bit, but the employees were great to assist in helping. that afternoon we headed out. We took a short drive thru the fields and finally I saw "bear country". I was driven by ATV to the stand, scent control is very important and Riverside does everything possible to make sure there is as little scent left as possible. I sat about 45 minutes and the first bear came in, then a bigger bear, then another! I had never seen anything like this, we were used to seeing 1 bear in an evening. The first night I did harvest a bear. I still had some doubts and I did get a bit trigger happy, but this was my first experience in Manitoba. After returning to camp, EVERYONE saw bears, many had killed, but even the few that didn't shoot, still saw bears. That night between 6 people, 59 bears were seen... 59!Yes 59! I should have waited, I truly wanted the opportunity for a color phase bear, but I was happy to have been successful. So to make a long story longer, the lodging was great, the food was great, the bears were great, the staff were great, and the fishing was great! If you are looking for a great outfitter in Manitoba, whether it's your first time or your 100th, Riverside is the place I would recommend. You are NEVER made to feel unwanted or unwelcome, you become a part of the family as soon as you place that first phone call. thank you Gildas and Joanne for a great trip and a lasting memory! And yes that's me with the smaller bear... Still happy, I went to Manitoba and got a bear... SUCCESS!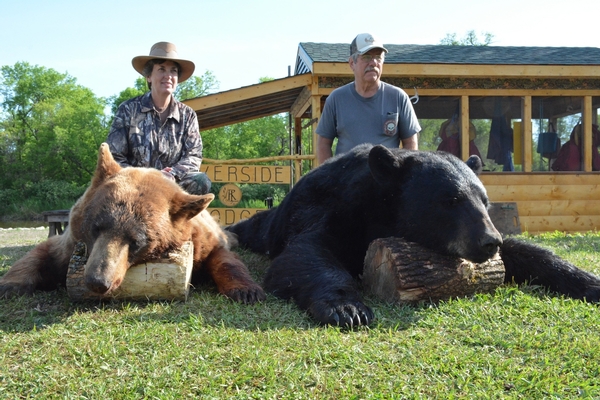 Ed & Joan Willenburg
Ed- Lots of bears in the area, Lots of color phase bears and large bears! The guides ere friendly, knoledgable glad to share any + all information. great food and lots of it! Accommodations ere clean + comfortable. Very professionally run business.
Ed Willenburg - Killed a monster black with official B&C all time record book score of 21 1/16 skull !!!
Joan- Hunting bear at Riverside Lodge was everything i had hoped for. Great hunting with lots of bears, many colors and sizes at active baits!! Gildas, Joanne, Jason, Laurie, Aaron and Ty did a outstanding job making sure the accommodations and hunts were high quality and as presented. Our guide Laurie as great! We were fed like kings- no fast food or store bought dinners here. The accommodations ere clean, functional and they have a very peaceful setting, even ith 9 guests this week, we had our on space to socialize and relax as we wanted. I never imagined i ould be able to kill such a beautiful cinnamon color phase bear, but it happened with these folks. Just an outstanding experience and wonderful hunt with very good people who really enjoy outfitting. I hope to come back someday and bring some friends who would enjoy this hunt at Riverside Lodge as much as we did.
Joan Willenburg - Killed a beautiful cinnamon phase bear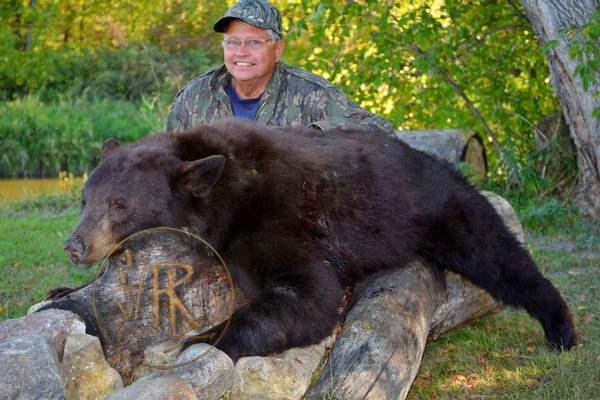 John Morberg
Excellent guides and hunting area. Seen many more bears than expected. Friendly, warm, welcoming atmosphere.
John Morberg, USA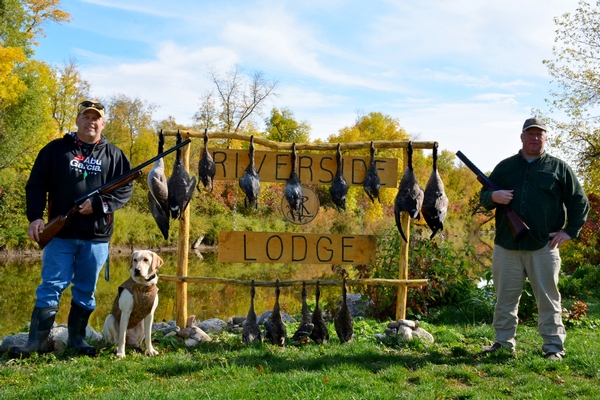 Darrell Tremblay
Had a great time. Food was great, accommodations great, hunting great!!! We will be back!!
Darrell Tremblay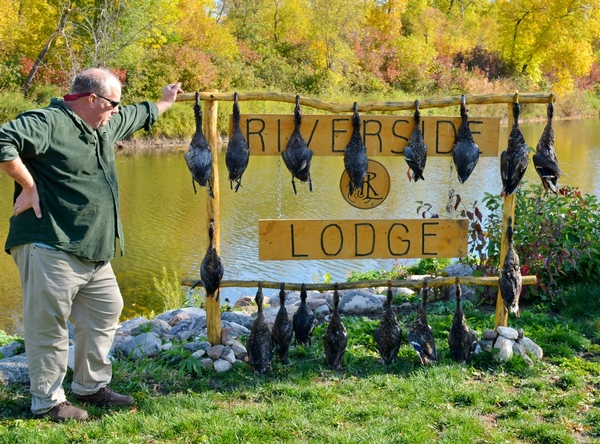 Chris Vaughan
Excellent hunting, quick and easy access to the lake and plenty of in your face birds. The diver hunting was fantastic. You better pack your appetite because the food is off the hook! Definitely be back.
Chris Vaughan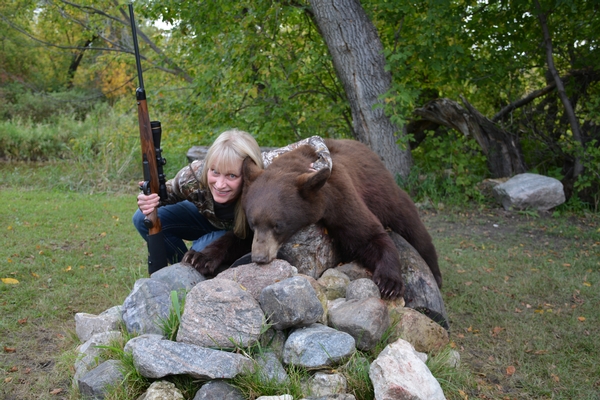 Julie Dudley
Thumbs Up!!! Gildas and staff will hook you up!
Comfortable lodging,extraordinary meals(thank you Ruth) and the absolute BEST Guides! If you are looking for a `trophy`then Canada will provide....But, if you are wanting it ALL then Riverside won`t disappoint! We started as strangers and parted like friends. The amazing trophy bear was simply gravy!!!
Julie Dudley
OK, USA
Jason Finley
Fall 2017 - Cayuga IN
Gildas, Thank you for the great trip! Your family and team were very kind and made us feel welcome. We had a great experience on our first Manitoba trip and it was well worth the wait! The bear hunting was great, the food was awesome, and we had a great time fishing and talking with your guides. I appreciate everything. Everyone at Riverside work very hard to make your trip a great experience, if your looking for a bear hunt in Manitoba, I would definately try Riverside! Thank you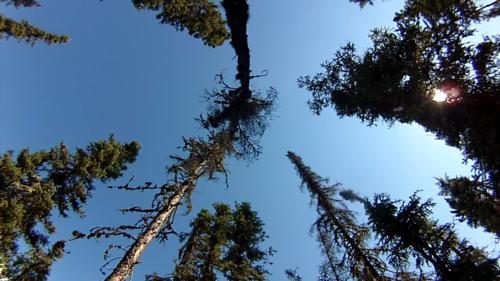 Gildas & Joanne and family
Spring 2017 - Dauphin Manitoba
One the best all around spring hunting season we had to date. Excellent guests and bears. Great weather for the most part and everyone really enjoyed themselves. Big thank you to our staff, guests, neighbors, friends, family, partners, sponsors and Mother Nature.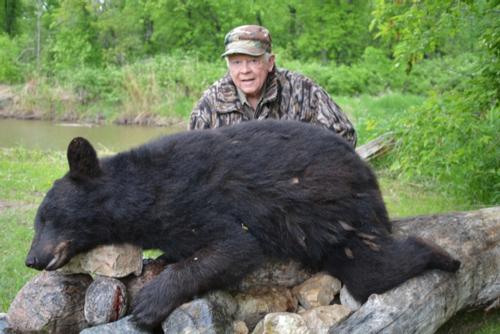 W.C. Hall
"Your hospitality was wonderful, the food excellent and the guides really cared that i have a great experience. The accommodations exceeded my expectations. The icing on the cake was getting a black bear."
W.C. Hall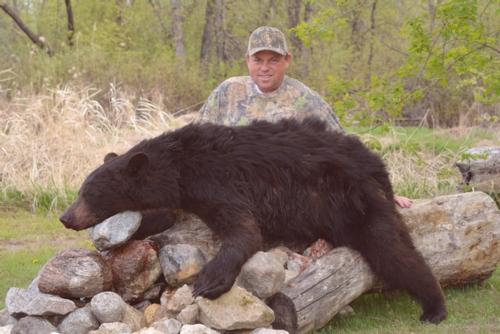 James Kendig
"Wow !! What a great week. For a bear hunting rookie like myself, i think this experience has been perfect. Thank you Gildas and Laurie for your patience and guidance. Your hard work led me to the harvest of my First Bear Ever. A nice 300 Lb Choc!!!
The guys in camp were incredible-Steve, Rock Myself are already planning our return trip!!!
After harvesting our bears, we caught nearly 75 fish of many species right off the fishing dock! Nothing beats a fresh shore lunch of fresh caught Walleye - except Mrs. Ruth Phenomenal meals. I'm looking forward to her Ham and Roast Beef next year already!!!
Thank you to the Riverside Lodge family for a great expeience, and you can look forward to hosting me again Spring after Spring"
James Kendig, AR, USA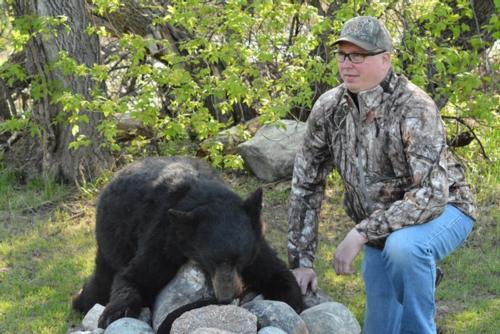 Steve Kiviniemi
"Best Bear Hunting and Walleye Fishing in Manitoba. Can not find a better Staff or Owners Anywhere in Canada or US. Treat you better than family. They accommodate all needs and concerns promptly. Also Guides are Top Notch, plenty of active baits to hunt. Food is the best i've ever had!"
Steve Kiviniemi, MI
Owners note: This is Steve's second hunt with us and i want everyone to know that this man displayed the most ethical hunting action, one i have never seen before.
Steve shot this bear on the first day of his hunt this spring 2016. He shot it because it was somehow wounded and would just become wolf bait. It couldn't use his front leg and it looked like an old wound, he felt it was suffering as it walked away and felt bad for not shooting it. He vowed to himself if it comes in again he was going to take it. That bear came back and in, and we skinned him the next morning.
Very comendable Steve
Gildas and Joanne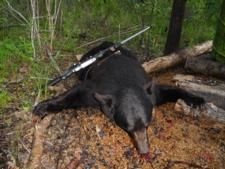 Dennis
Spring 2016 - Dauphin, Manitoba
Gil: Thank you for a great week hunting black bear at Riverside Lodge. I thoroughly enjoyed myself at your camp and I got a beautiful black bear as a trophy! It is obvious that this is a full time job for you and your team. You provided Nordstrom level service throughout the week. You did your best to provide an opportunity to meet our objectives – shoot a bear that we would be happy with. My objective was to shoot a big black bear and I was successful. I would have been pleased with the hunt if I went home without a bear but I was thrilled to go home with such a beautiful specimen. The camp was great. It was a professional operation run by hard working, friendly and honest people. It was very well set up. The accommodations were nice with a personal kitchen, bedroom and bathroom, central lodge with a group dining room and an abundance of food. The cooking was great – no need for survival bars or Snickers. The bait sites were picturesque with good stand placement and stocked with lots of fresh feed. Personal time could be filled with very good walleye fishing, sporting events on the flat screen television, reading hunting magazines and storytelling with the other guests. Thank you again for providing a great Manitoba adventure week. Dennis Leisten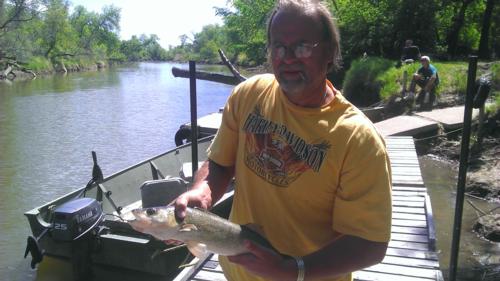 Dick Eldridge
spring 2015
I have hunted bears for over thirty years and all over North America and I would rate what you offer with the best of them. It is apparent that you and your staff take great pride if what you have to offer. I felt like every detail was prepared and accounted for to make this a pleasurable experience. Even though I was not successful in filling my tag there were opportunities and the quality of animals sighted and harvested while I was in camp were excellent. The accommodations were excellent and the entire staff were very personable. In most camps it takes a few days to really settle in and feel comfortable but not in yours as everyone made me feel comfortable right from the start. Truly enjoyed my entire stay and will return in the near future.
Thank You
Dick Eldridge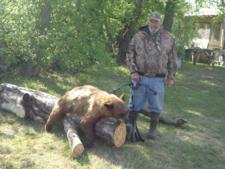 Rock Hartwick
spring 2015 - houston mn.
2015 "Gildas:Thank you for the hunt dreams are made of.Your attention to details are matched by none.It was my first bear hunt and it couldn't have been better.I seen 4 bears in 2 days,3 were colored! I shot a cinnamon/blonde with my crossbow at 8 yards,awesome! I will be returning in 2016 for another hunt.The accommodations were great ,mouth watering meals,super hospitality and a great staff.Special thanks to my guide Troy.See you in 2016.Thanks Rock"
2016- No bear this year-
"Honest straight forward no bullshit great hunting. They will go the extra mile to get you your bear. Excellent guides, Great food thanks to the cook Ruth. Special thanks to the owners Gildas & Joanne super great time.
Be back next year same week. Thanks Rock"
Gary Irlbeck
spring 2011 - Duck Bay
Gilda's, Hunted in the spring of 2011 and killed my first bear. I will be returning in 2015 for my second bear hunt. I have stayed at multiple lodges .You and your staff are 1st class which is why I'm returning to your lodge for my second bear hunt. See you In the spring. Gary. (Rooster). Irlbeck Iowa
Kevin Palmer
Dear Riverside,
I've written this recommendation of your work to share with other LinkedIn users.
Details of the Recommendation: "Noted by many as the top outfitter in Canada - Gildas Paradis has a reputation for delivering exactly what is promised - if not more. He has and is being used as the standard by which other operators in the Province should attempt to stretch towards.
Gildas is receiving a trip from Field and Stream this year from a myriad of great Manitoba operators - predicated on many of them placing their faith in his services. In their opinion, Gildas is one of the very best!"
Kevin Palmer
Outdoor Manager at Travel Manitoba
Sam Hill
"Myself and 4 others from Oklahoma stayed and hunted with Riverside Lodge in May of this year (2008). Words cannot explain what a well ran camp this is! You must see it for yourself!! From the top to the bottom all first class. We started hunting on Monday and everyone was taqgged out with BIG BEARS by Wednesday! Two of the bears will make the Boone and Crockett book. Cabins were clean, with clean towels and light cleaning done everyday! The food was more than you could hope for! Very good home cooked meals. I think I gained 5lbs. while on this trip and I am a picky eater! I killed my bear on Wednesday evening and I saw a total of 11 bears during my 3 days of hunting. I saw a "shooter" every day I hunted but this being my first bear hunt I wanted to enjoy the time in the woods! I am also a deer and duck hunter and looked this part of the operation over too. I can assure you if you want to go on a great guieded hunt, Riverside Lodge is the place! Great guides, great territory, great food, you just cannot go wrong if you book with Riverside Lodge."
We have already booked again for 09! Feel free to call me if you have questions.
Sam Hill
Bartlesville, OK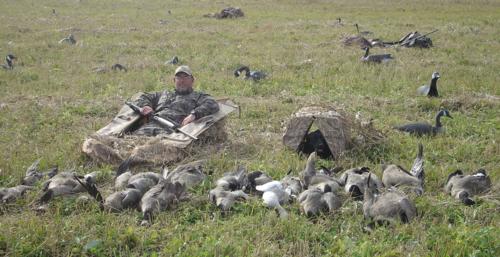 Randy Ryals
Absolutely the most amazing duck hunting experience I have ever had. The lodging, food, guides, hospitality and ducks were all in incredible abundance. Looking forward to going back again and again.
Randy Ryals
Chris Fjermestad
I am a waterfowl lover and hunter. I live in Minnesota and have hunted the big lakes for the last 20 years of my life like a religon, chasing that one or two days in Minnesota we get when "the migration is on". At Riverside it is on EVERY day. The quality of the lodge, personel, and hunting is the best I have ever seen. It is truly your dream day of bagging the kings of the big water Cans, Redheads, Greater bluebills, Goldeneyes etc. The landscape will also put you in the middle of every Redlin painting you have ever stared at, lost in a duck hunters day dream. I would recomend this hunt to anyone who loves waterfowling, it is truly first class!
Chris Fjermestad
Albert Lea, MN


Chris Hoover
Are you sick of Arkansas and no ducks and pressure . Are you sick of waiting your turn at the boat launch. Come to Riverside, Gildas will put you on the birds . I have hunted lots of places Manitoba is the best. If you want a get away hunt this is it . If need a reference call me: Chris Hoover Dauphin Manitoba 204-638-5721 "transplanted Buckeye "
Chris Hoover
204-638-5721
Bill Hansen
My buddies and I have hunted Riverside Lodge several years. It is consistently the best duck hunting / shooting we've ever had, and we've hunted U.S. and Canada extensively over the last thirty years. The camp is very comfortable and clean. The equipment is in great shape and everything works well, (plus he keeps spares). The food is like at mom's house, (if mom is a good cook). The Paradis family do everything they can to make it a great experience. But it really all comes down to the ducks. Riverside Lodge is located in the middle of God's duck factory. The guides are real characters and they know the area really well. There are always ducks, lots and lots of ducks. We take a break every few years to try to find even a better place, or to drive a little less, but we haven't found anything nearly as fulfilling as Riverside Lodge. This is the place to save up for. Simply put, Gildas has the lodge you end up comparing all others against. One other point - when Gildas tells you he can accomodate older or physically challenged hunters, it's very true. It would be a great place for a grandpa, dad and son hunt when Gramps thinks his hunting years may be over. It's pretty close to heaven for duck hunters.
Bill Hansen
Minneapolis, Minnesota
Dwayne Zarichny
My son Josh and I participated in the 2008 youth waterfowl hunt. Gildas, Joanne, Lily and Josie were absoultely wonderful hosts! All of the kids had a great time, and they shot a ton of Ducks! Riverside Lodge is an incredible place. From the moment you arrive, you're met with unbeatable hospitality, and it keeps getting better. The food was awesome and abundant, and the cabins were great, and I've never seen so many ducks! Gildas was more than willing to share his experience with the kids, and we all benefitted from it! If you are looking for an awesome hunting experience, Riverside Lodge is where you need to go.
Dwayne Zarichny
Ted Hebert
have always appreciated duck hunting and when I discovered Riverside Lodge I thought that I had discovered duck hunters heaven. Getting a limit is not that hard unless you can' shoot. What impressed me is the variety of ducks. On my last hunt for the season my friend (a retired Michigan waterfowl biologist)and I bagged 8 yes 8 different species of ducks, divers and puddlers in about 40 minutes of shooting. This place is truly unbelievable. Good people, good housing good food and hunting guides that are a hoot to be with. In my first year there I limited out in 30 minutes and went on a tour of the marsh Islands. The islands are loaded with history and the marsh goes forever. I cant wait for next season.
Ted Hebert
Michigan
Mark Jones
I have hunted ducks from Mexico to La, Tex., Ark., Sk., Alberta and Manitoba. Riverside is the best combination of value, good accomodations, hunting guides and ducks. We will go back this year for our 4th hunt.
Mark Jones
Chad Steinkamp
Gildas,

Thanks a bunch for a great hunt! You run a first class operation and if you ever want to use me for a reference person I'd be more than happy to give you a great endorsement! I attached the best picture I had of my bear as he lay in the bush. If you get out and shot one send me a picture. Thanks again!

Chad Steinkamp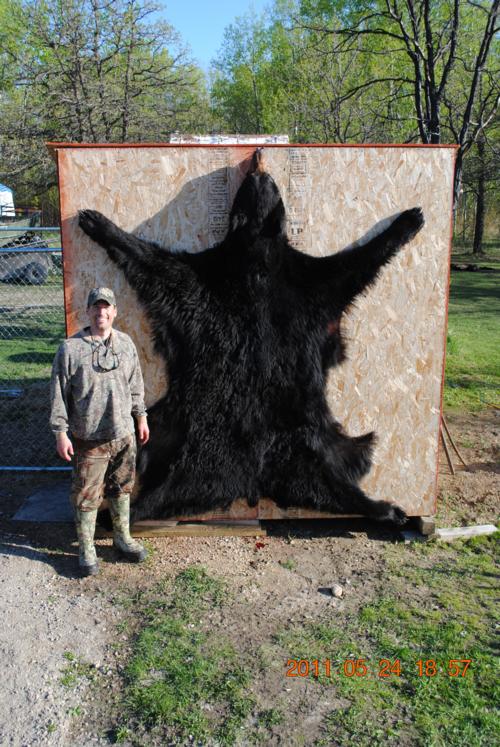 Scott Stehlik
I shot an enormous black bear there two years ago. It is photo dated 2011/05/24 - with the bear hanging off the back of the dog kennel. It measured 21 4/16", has been certified by Boone and Crockett, and was listed in the last Fair Game magazine. Thanks again for a beautiful animal and the a hunt of a lifetime/
Scott Stehlik
Iowa
Brandon Tollefson
June 2013
Gildas,
Thank you so much for the hunt of a lifetime! The guides were great. The food was amazing. Just the overall experience was something I will always remember. For a bowhunter this place is unreal! My brother and I were lucky enough to tag out with two great P&Y bears, mine being a chocolate giant. I would recommend this hunt to anyone looking for a true wilderness adventure.
Thanks again.
Brandon Tollefson
Bill Almond
Hello Gildas, just looking at e mail and need to know location of kill, exact date of kill. I think it was September 20th 2008? Also i have fair chase affidavit but don't know if you need to sign anything? Thanks for info and thanks for the monster bear that measured 18 3/16 . If you need anything or anybody to talk about great bow hunting at your place give me a ring.
Thanks again, Bill Almond
Hello Gildas thanks for the information. I'll send you a fax of my paper work on Monday to make sure everything is in order before i send it to Pope and Young thanks again! My home phone number is 1-xxx-xxx-xxxx
Talk to you later, Bill Almond
Terry Gauldin
Awesome spring bear hunt!!! i will be back for another hunt first class operation, lodging, guides and world class BEARS!
Terry Gauldin
Send us a Testimonial
To our past clients: We appreciate your comments and if you would, fill out the form with comments and a photo about your experience at Riverside Lodge. Fields marked with * are required. Please enter the Name field how you want your name to read on our website (Examples: John Doe, J. Doe, John D., John Doe Corporation).
News & Events
06/29/23
Lily graduated last Saturday from high school. We are so proud of her accomplishments and know she is going to add great things to the world as grows.
05/21/23
Avoid Toronto airport if you are flying to Canada! Especially avoid Air Canada.
They are not hunter freindly.
02/05/23
Trouble finding a vehicle rental to get to your outfitter?
01/04/23
Look at this bruin, 610lbs!