2nd buck of 2019 season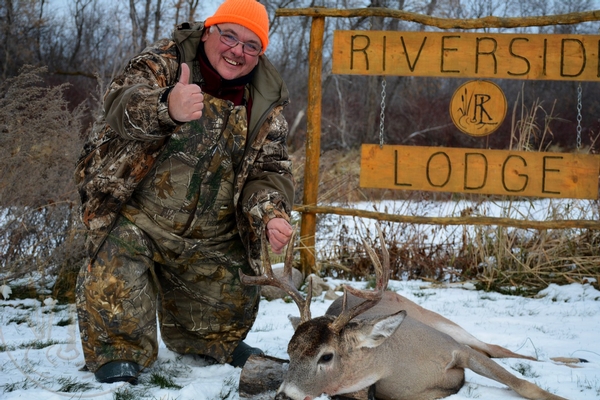 This was a great deer taken by a great guy Michel Charland from Quebec. He hunted with us and anchored this great buck on the second day, which did not surprise him as he says he always kills on the second day for some reason!
He also made a fantastic shot with the buck running at 250+ yards, killed him with 1 shot! Biggest deer of his life, and his excitement was great to see. I was lucky to be in the area when the radio went off with Michel stating he just shot a buck, so i went in on the recovery. He hugged guide Dave and jumped up and down like a kid at Christmas! Awesome to see and be part of such joy with a hunter. It's all about the experience and we really appreciate those times. Thanks Michel, see you next year.
Posted in: Whitetail Hunting
Reader Comments
2 Comments on 2nd buck of 2019 season
News & Events
06/29/20
Common to see painted turtles here but this
05/30/19
Heading out to hunt bear,
08/05/18
See the 2 newest members of the Riverside Lodge hunting dog crew!