Best day fishing!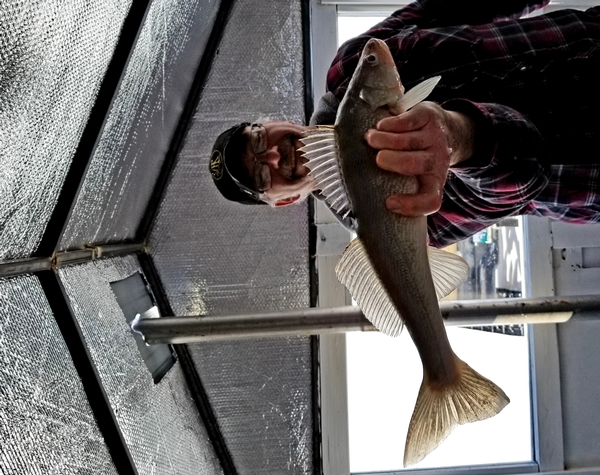 We had a family cancel their trip with us this weekend so I called my good buddy Lars. He cleared his schedule and was here by 9 am. The bite has been slow lately so our plan was to take our new ice running set up for its maiden voyage looking for fish if we had too. The new rig is a project I have been working on. I took my old Chevy s10 and mounted tracks on the back and skis on the front. Behind we pulled our ice shack / caboose. This proved to work very well for quick moves. However we only moved once.
The day started of with 12 fish in the first 1.5 hrs. All but 1 was too big to keep so with a tip from a friend we move .5 mile south. That was a great idea because we got into the keeperz and filled our limits. The 2 of us iced over 30 walleye today!!! It was great to finally have some great action. Even a triple header! We cooked a couple on the stove with S&P and butter hmmmm good stuff. Turned out to be one of our best days fishin in a long time!
6 people in total all went home with limits of keepers and finished the day throwing a bunch of keepers back! Yes hard to do especially after such a tough season so far. Catching small walleye out here is a challenge.
Looks like Feb is going to produce walleye as suspected. Here's to tommorw and the rest of the season!
If you want in on some of this action contact us 18662148402 or message us.
Posted in: Uncategorized, Fishing
Reader Comments
0 Comments on Best day fishing!
News & Events
06/29/20
Common to see painted turtles here but this
05/30/19
Heading out to hunt bear,
08/05/18
See the 2 newest members of the Riverside Lodge hunting dog crew!