Lily's 3 colored bear mount is done!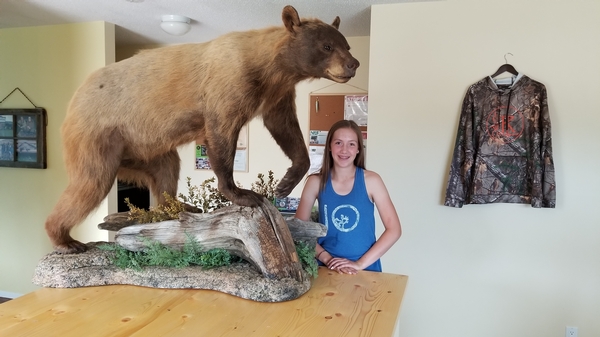 We brought home Lily's bear from last spring! Taxidermist did a great job and we set it on the bear stage in the lodge.
Not only is it a rare 3 colored black bear (blonde, cinnamon and chocolate) but it is a perfect bear to show what a little rubbing of the hide can look like. We always wanted a bear to show guests what a run looks like, and what better bear than this one! It is more evidence of the multiple color bears we harvest here.
We are editing Lilys hunt video and will post it soon.
Not only was this Lily's first bear (she was 13yrs old), but she got it on video while Bear Magnet Tv was here filming Mr. Larry Weishuhn and Mr. Tink Nathan for an episode of Legends of The Outdoors! What a story and experience for a young hunter to have! Very thankful we were able share that with her and everyone in camp.
This bear will greet you when you arrive in the lodge on your next adventure with us, come check it out! And take aim on your next trophy bear!
Posted in: Bear Hunting, Lily`s field reporting
Reader Comments
0 Comments on Lily's 3 colored bear mount is done!
News & Events
05/30/19
Heading out to hunt bear,
08/05/18
See the 2 newest members of the Riverside Lodge hunting dog crew!
02/03/18
Had one of our best day of ice fishing this year!