My first bear is an array of wonderful colors!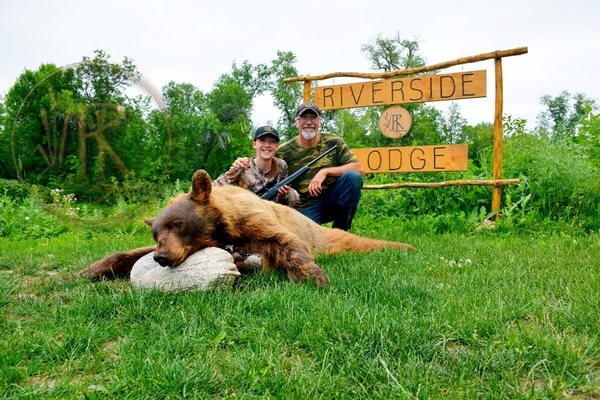 This spring I got to experience bear hunting! As you can see I got the opportunity to shoot an amazing, beautiful Tri Color bear. This bear was a sow, she was 277 pounds. She was 6.3 feet long and 5.3 feet wide. With out all these people this memorable experience would not have been made:
Larry Weishuhn who gave me some tips at the shooting range when I was practicing my shooting,
Bear Magnet TV/Beverly Reynolds and Dale Boyer who gave me the opportunity to be on Bear Magnet TV,
Tink Nathan who gave me some bear scents to use and encourage the bears to come into the bait,
My dad/Gildas Paradis who took me hunting, filmed my hunt, found my bear, carried my bear out of the bush and taught me how to skin my bear,
And my mom/Joanne McCallum who LET ME MISS SCHOOL, took pictures and sent me into the bush with some tasty snacks!
A big thank you to all of these people who made this such a memorable hunt! This hunt would not have been accomplished with out all of you. I couldn't have asked for this hunt to have turned out any other way!
Posted in: Bear Hunting
Reader Comments
0 Comments on My first bear is an array of wonderful colors!
News & Events
05/30/19
Heading out to hunt bear,
08/05/18
See the 2 newest members of the Riverside Lodge hunting dog crew!
02/03/18
Had one of our best day of ice fishing this year!