Soon will have basement floor!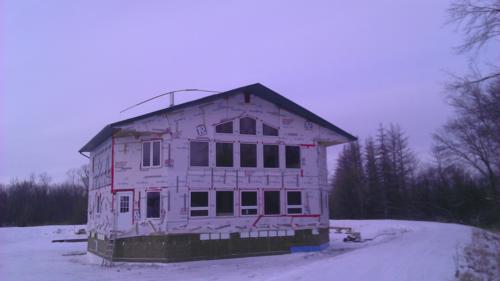 Final stages of preparation to pour cement floor in new lodge! Big important step to facilitate progress for finishing the rest of the building. Once complete all plumbing can be completed, tools and material can be brought in, furniture and etc can be moved downstairs and our nice new flooring can be installed on the main floor and upper bedrooms. Then it is final trim work and exterior siding. Which by the way we are looking for ideas for the finished look. Any suggestions are welcome. Thinking about a log siding for exterior with maybe some rock looking product, parging, etc. Nice big deck in the future too, needs to be incorporated into the final look of the building.
Interior is going to have heated tiled entrance (so your socks will be dry when you go to put boots on), vinyl oak planking tile, and commercial grade kitchen flooring. need ideas for the stairs and the big front great room wall of windows (finish ideas around windows etc, pine or rock etc).
This is going to be a nice building once completed, no wait, it`s already nice, going to be beutiful once complete. 4 bathrooms with 3 showers, 6 bedrooms sleep 2-3, huge kitchen, greatroom and dining room. Overlooking the Valley River at an angle to see up and down river. 4 fully furnished cabins getting a facelift also with full kitchens and bathrooms.
Get your spot booked for opening weekend of fishing, always a ton of fish caught and now a fantastic place to stay with fish literally feet from the door step (yes you catch walleye right of the bank infront of the lodge). Get out in a boat to have full day on the water and extra fun!
Beleive it or not, spring is coming!
Posted in: Uncategorized, Waterfowl Hunting, Bear Hunting, Fishing, Predator Hunting, Whitetail Hunting, Lodge
Reader Comments
0 Comments on Soon will have basement floor!
News & Events
02/16/21
Newest addition to our Ice Fishing Equipment lineup
02/11/21
First try making deer salami!
08/05/20
Ultimate organic nourishment
06/29/20
Common to see painted turtles here but this
05/30/19
Heading out to hunt bear,