took a look at some nice girls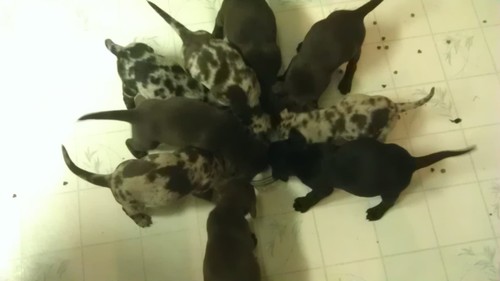 Looked at some very nice unique pups today. 75% chocolate lab, 12.5% wimeranuer(sp) 12.5% Australian shepard
Dam is 50% choc lab, 25% wim/25%aust shep
Sire is 100% choc lab PB
Both parents are calm steady excellent temperment and inteligent.
The aust shep gives it awsome eyes and multicolored patchwork coat and inteligence. The wimeranuer gives it some color and hunting background with energy and inteligence, the lab also gives it hunting roots and calm steady inteligence.
These dogs are beautiful!!! Put a deposit down on a georgeous female.
9 pups total, 7 left if anyone wants one let me know.
Mother was teaching them to play today while we were there, had never seen that before, it was cool to watch.
Hoping to teach this dog to retrieve birds and antlers! Pretty sure if i spend the time with it, it will hunt.
Posted in: Waterfowl Hunting
Reader Comments
1 Comment on took a look at some nice girls
News & Events
02/16/21
Newest addition to our Ice Fishing Equipment lineup
02/11/21
First try making deer salami!
08/05/20
Ultimate organic nourishment
06/29/20
Common to see painted turtles here but this
05/30/19
Heading out to hunt bear,