Manitoba Waterfowl Hunting Outfitters
Manitoba Waterfowl Hunting Mecca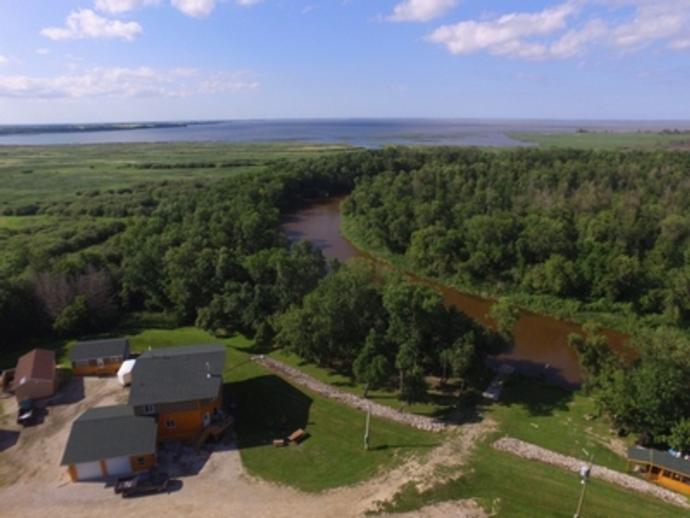 This was built here more than 50 years ago, for good reason!
You have to hunt where the birds want to be, that is here!
Riverside Lodge and area is well known for the tremendous Waterfowl migrations which historically take place each fall on our major flyway for as many as 15 species of ducks and geese. It is a natural flyway for the migration from the north. The big lakes act as a magnet to the flocks of birds on their way south, and the expanse of huge grain fields, ofers them a place to stage and feed while they wait the cold winds. No place else provides these hunting opportunities for such a diverse style of hunting. As you can see in the video our location is perfect for offering spectacular waterbased and field based hunting. The best duck hunting on the lake is right off our property and the best goose hunting in the parkland surrounds us. Once here you will be anxious to get out and hunt all the birds that teased you on the way in.
Our guides are professional and aim to please, as they want to hear gun shots and full straps of birds. Wheather in a boat or field they take care of scouting, set up/take down and bird retrieves. You just need to point true and knock down birds.
Field goose and puddle duck hunting-We deliver exceptional field hunts for geese and ducks. I personally know many of the farmers in the Parkland area and getting permission on the barley and wheat fields is never a problem. We have consistent success on our field shoots due to proper scouting and land owner relationships. We hunt from layout blinds and/or verticle blinds over a great assortment of full body, shells, sometimes silo's and sock decoys if the conditions dictate it. We use the latest tools available to increase our sucess and comfort. We run 2-4 different rigs pulling trailers loaded with gear and equipment to deliver a great field hunt. Most often we can drive right out in the field but other times we bring our ATVs and trailers to get the gear and hunters on and off the fields. We typically target Canada geese but often get a chance at decoying flocks of Snows during a hunt. On the right field, we will target snows and put out a large spread. The goose hunting is every bit as good as the duck hunting often having mallards hitting the spread before the geese. A bit of calling and wave of a flag may be all that is needed to fill limits. And we have some generous limits, see below.
Diver Ducks-We are one of the last Lodge and Outfitters in Manitoba that still offers Diver Duck hunting from boats over decoys. We have the equipment and knowledge to Safely hunt the big water and inside lakes and marshes. We hunt divers and puddle ducks in the same day, as you can see in our photos pages, bagging 10 species in a morning is very common. We have a friendly Lodge rule to shoot drakes only. Come see the clean water, all the wildlife and the smell of the marsh , it will surely make your day.
Riverside Lodge has been outfitting waterfowl trips since 1961 and the hunting is as good as it ever was.
We adhere to all game laws and provide ethical fair chase hunts. The hunting is very much like it was many years ago, not much has changed, only the hunters and equipment. A few of our guides have been working here for 20+ years and have seen a lot of things but yet nothing surprises them. We are all professionally trained and licensed Manitoba hunting guides. Mother nature will always keep it interesting making every hunt a new experience. We call this "The University we never graduate from".
Here are a few videos showing a bit of our hunting.
Some Field hunting Mallards and Pintails
Some diver hunting in our marsh and lake.
Crowded hunting spot, not here!
Upon returning from the afternoon hunt you will sit down to a very hearty dinner which resembles a holiday meal. We serve up terrific meals of duck such as "7 hour roast duck" and "Duck poppers" throughout the week. After dinner you can retire to your quiet private cabin or quest room in the Lodge, or stay up and visit in our "Gazeebo" which has satellite TV and several comfortable arm chairs and sofas with a hot wood stove burning that tends to bring out the story teller in everyone.
You will not be disappointed. Call us and we can elaborate on our hunting tactics and success.
Species
Canvasbacks
Redheads
Mallards
Pintails
Ring Neck
Greater and Lesser Scaup
Widgeon
Blue & Green Wing Teal
Bufflehead
Goldeneye
Wood Duck
Shoveler
Canada Goose, Snow Goose and more
Seasons
Waterfowl/Gamebird seasons run 10 weeks, but we hunt waterfowl from Sept 24th till end of October.
Please call or email for details or for a copy of the Manitoba Hunting Guide.
Limits of Birds!
Ducks-Any Species- 8 per day/24 total!
Canada Geese-5 per day/15 total!
Snows/Blues/Ross -20 per day/60 total!
Is there anywhere that has a higher limit of daily and total possesion limits?
Dogs
Well behaved dogs are allowed and can stay in the cabins as long as they are kenneled in their travel crate. We charge $10/night per dog.
Packages
Guided hunts, 3 day hunts all inclusive. Custom hunt packages available. Call for details.
We can accommodate 2 - 14people per week.
Click here for Rates page request
Now booking for the 2015-2017 hunting seasons
Photos